Check Additional Folders
Check Folders – Allows you to set the folders to be checked on each send and receive that Outlook or Outlook Express performs. This is particularly useful if you are checking webmail accounts such as Hotmail or Yahoo, IMAP, and Exchange accounts. It can also be useful when sorting messages into different folders with Message Rules and you still need to run SpamBully filters over the messages that have been sorted. (Note: In Outlook Express this is only enabled if you are not using Pop accounts.)
a.) Add – Allows you to add a folder to be automatically checked. Click the "Add" button and select the folder you wish to check. You can add as many folders as you like.
b.) Remove – Allows you to remove a folder that has been added previously. To remove, simply highlight the folder in the list you wish to remove from automatic checking and press the "Remove" button.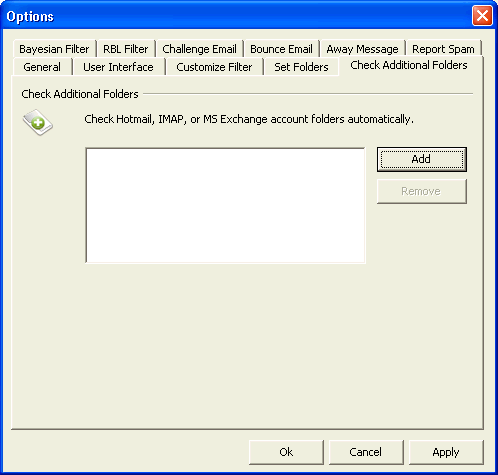 ---
This article may be found at:
http://www.spambully.com/sb3help/index.php?page=index_v2&id=16&c=5
---
Article Comments

There are no user added comments for this article.